Featuring the EN200, EN202, and the EN204 Vibration Meters.
EN200 is our best selling vibration meter and some of the reasons for this is:
1. Ease of use, only two buttons
2. Durability and Accuracy (Warranted for 5 Years)
3. Accuracy - uses an IEPE standard Accelerometer gives 1% accuracy.
4. High Repeatability, uses ony one unit (peak values)
5. High endurance - Rechargeable Li-ion batteries lasts all day with continuous use and are
environmentally friendly with average life span of two years.
6. Economical.

Only 24,995 Baht.
EN202 is our second best selling vibration meter, and is designed for the more
experienced users. The unit has added features as follows

:
1. Auto power off - after 10 minutes of use the unit will shutdown
2. Switchable RMS and PEAK values of vibration
3. HOLD button for freezing the displayed values
EN204 is the latest addition to our offering of vibration meter. This unit has the widest range available for measurement of vibration
, and also includes the durability and accuracy that our customers have come to
appreciate. The measurement ranges are as follows:
Acceleration Range: 0-2/0-20 and 0-200 G's
Velocity Ranges: 0-20, 0-200, and 0-2,000 mm/s
Displacement Ranges: 0-20, 0-200, and 0-2,000 microns.
Measurements are switchable RMS or Peak
เครื่องวัความสั่นสะเทือน EN-200 KIT
EN-200เป็นเครื่องที่ใช้วัดความสั่นสะเทือน
ทั่วไปสามารถจะปรับช่วงการวัดได้
มีหูฟังเพื่อฟังเสียงของลูกปืน เป็นเครื่องที่
เหมาะกับการซ่อมบำรุงเครื่องจักรที่มีการ
หมุนของลูกปืน สามารถทราบได้ว่า
เครื่องจักรอยู่ในสภาพใดโดยการดูค่าจากหน้าจอ และนำตัวเลขมาเทียบกับชาร์ต ISO 2372
เครื่องวัดอุณหภูมิแบบอินฟราเรด รุ่นAZ8868
เหมาะในการซ่อมบำรุงเครื่องจักรของ
มอเตอร์ ขดลวดมอเตอร์และบัสบาร์
ตู้คอนโทร และอื่นๆ ใช้วัดอุณหภูมิทั่วไป
ช่วงในการวัด -20 ํC - 420 ํC
เครื่องวัดความเร็วรอบของมอเตอร์ รุ่น DT6236B
สามารถวัดได้ 2 แบบ คือใช้เลเซอร์
และแบบสัมผัส ตัวเครื่องสามารถตรวจเช็ค
ได้ว่า ทำงานปกติหรือไม่ โดยการใช้
เลเซอร์ยิงไปที่หลอดฟลูเรสเซนส์จะได้ค่า 6000 rpm ช่วงของการใช้งานของตัวเครื่อง แบบสัมผัสวัดได้ตั้งแต่ 5 - 19,999 rpm และ
แบบเลเซอร์วัดได้ตั้งแต่ 2.5 - 99,999 rpm
Palmer Wahl Thermal Imaging Cameras .... The most powerful and affordable full specification Thermal Imaging Cameras on the market today!
The choice is easy. Wahl's NEW Thermal Imagers are the best tool for the job, and give you the flexibility you need for easy future upgrades!
a50 INSPECTOR
— designed for the professional required to document and prepare reports with ease, including thermal and digital images.Upgrade both models with High Temperature, Wide Angle Lens and/or Telephoto Lens options - at any time!First Camera Upgradeable AFTER Purchase!
Buy one Heat Spy and upgrade your camera with up to 15 configurations when you are ready!Camera acclimates quickly, meaning sudden ambient temperature changes won't slow you down!Double Vision feature takes a Thermal and Digital picture at the same time, and can include up to a 45 second voice recording.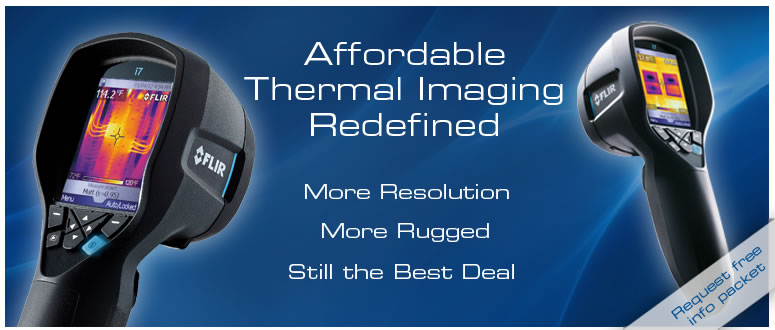 Features of FLIR i-Series Infrared CamerasExpanded Thermal Imaging Performance. Ruggedness You Can Trust. The Most Affordable Thermal Imaging Cameras. –
One thing that's stayed the same is price; starting at under USD$1,400 for the i3, FLIR i-Series cameras are the best value out there.